Description
B 570 QE Kaffe Edition – play with colors and create something beautiful!
This limited edition model comes with a faceplate featuring the Big Blooms floral design by Kaffe Fassett. Gorgeous decorative stitches and embroidery designs by Kaffe are built-in. The machine also offers the latest sewing and embroidery functions, and includes unique accessories such as the BERNINA Stitch Regulator and the Patchwork Foot #97D – everything you need to let your creativity blossom.
Get $1,298 in FREE gifts*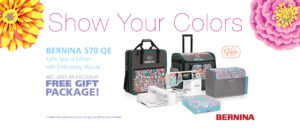 Optional embroidery offer**
Add the Embroidery Module with Smart Drive Technology (SDT) and get a gift package valued $2,106**:
Embroidery Module Bag in Kaffe design
Trolley in Kaffe design
Dust Cover in Kaffe design
OESD Embroidery Bundle with

5 New Kaffe Fassett Collections
4 OESD Stabilizers
12 Spools of Isacord thread
Big Book of Embroidery
1 pack of 5 embroidery needles
OESD TearAway Tape
EmbroideryOnline Gift Card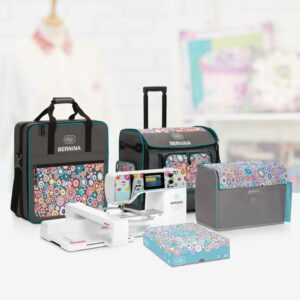 Limited quantities available. This listing is for advertising only, not for ordering.
Call or email to find out how to purchase one today!                603-436-6343    pfc@portsmouthfabric.com