Portsmouth Fabric Company carries one of the largest and most unique selections of fabric in New England.
Contemporary quilting cottons, bali batik cottons and rayons, silk dupioni, silk noil, silk organza, silk charmeuse, flannels, batiste, cotton solids, laminates, linens, velvets, wool, Liberty of London cotton, and more!
We offer the top quality line of Swiss BERNINA sewing machines with free, unlimited guide classes. We also offer free service for one year with each new sewing machine purchase.
PFC carries specialty threads (Aurifil, Isacord, Mettler, Superior) for embroidery and decorative sewing and serging, trims and ribbons, unusual buttons, and notions.
Portsmouth Fabric Company caters to discerning consumers who want professional advice and individualized service with their product selection.
WORKSHOPS
Inquire about our next workshops with international quilters such as Kaffe Fassett and Brandon Mably, Susan Carlson, Dianne Hire, Jo Diggs and others.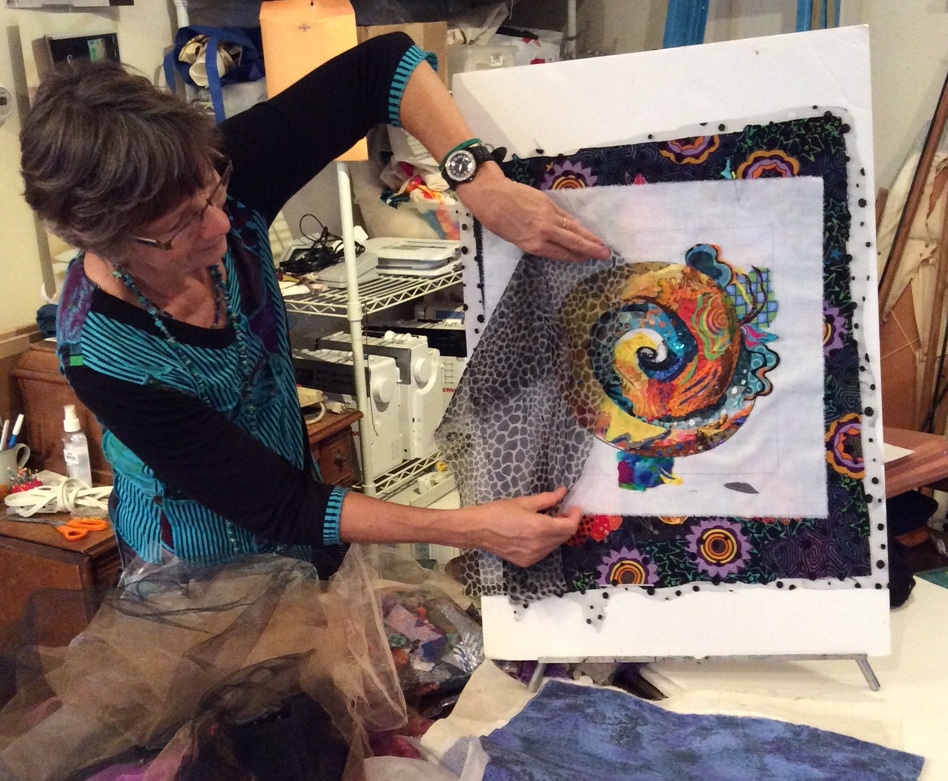 CLASSROOM
The classroom at Portsmouth Fabric Company is available for special classes or meetings. If your group would like to reserve our classroom with or without BERNINA sewing machines, please email 
pfc@portsmouthfabric.com
 for more information.
QUILT SHOWS
In June you will find Portsmouth Fabric Company exhibiting our latest quilts and fabrics at the Vermont Quilt Festival (VQF), the nations's oldest quilt festival!
In the fall we have a booth at the Cocheco Quilt Guild Show.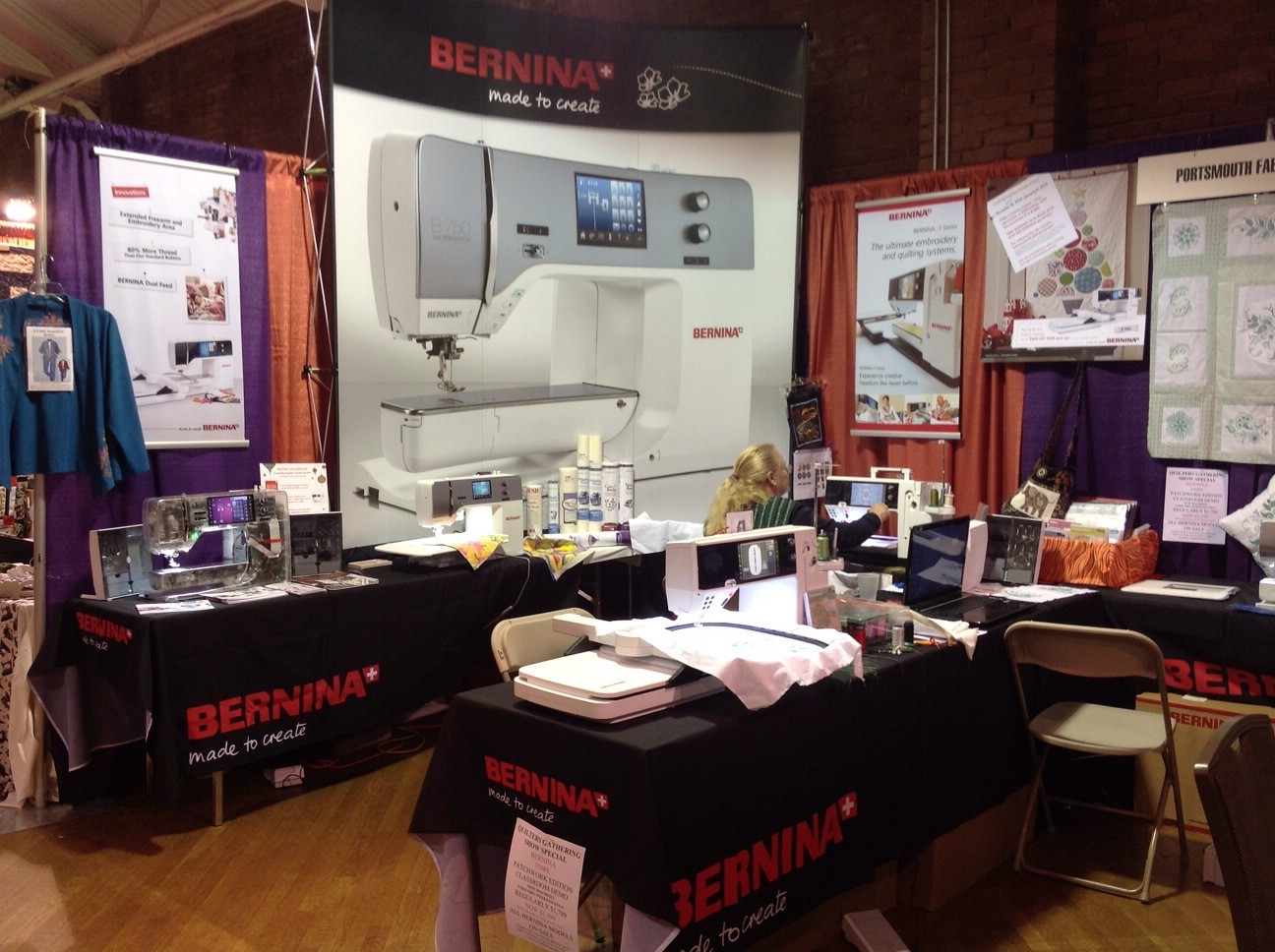 ANNUAL CLEARANCE SALES
Portsmouth Fabric Company holds two clearance sales every year, the Anniversary Sale at the end of June in to early July and the Year End Clearance Sale at the end of December in to early January.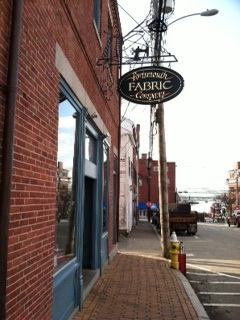 HISTORY
Since 1979 Portsmouth Fabric Company has sold natural-fiber fabrics, fashion fabrics and designer cuts, and since moving to its present location in 1980, has featured Bernina sewing machines.
In 1990 Portsmouth Fabric Company added contemporary quilting fabrics, and quilting and fiber arts books to its inventory, which now includes more than 7,000 bolts.
PFC is located in the hub of shopping and tourism in the historic district of scenic downtown Portsmouth, New Hampshire.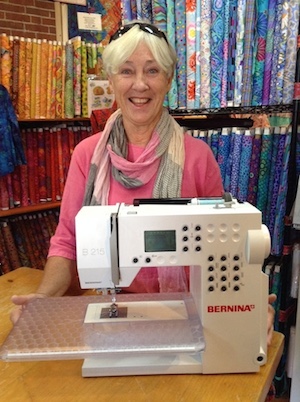 LOCAL CHARITY PROJECTS
CINDY KRUG IS THE WINNER OF THE BERNINA 215 RAFFLE FOR       THE NEW GENERATION, SAFE FAMILY-ORIENTED SHELTER!                    
THANK YOU everyone who bought tickets for a chance to win the BERNINA 215 celebrating our 35th Anniversary of selling BERNINA machines! We raised @ $800 to donate to the NH Charity:
"The River in Your Town" Quilt Project
For our 35th Anniversary Celebration, we sponsored a Fish Block contest as part of "The River in Your Town" Quilt Project for a chance to win $50, $25, or $10 gift certificate. The quilt blocks were sewn together with other blocks from the contest to become "The River in Your Town" Quilt which is now on display at the shop!
"The River in Your Town" Quilt will travel to various communities that are holding fundraisers and awareness programs that support organizations like the York Center For Wildlife and promote the book, "The River In Your Town".
"The River in Your Town" is a song/book written by Sammie Haynes and illustrated by the 2012 second grade students of Central School in South Berwick, ME; Peter Randall Publisher, Portsmouth, NH, $10, available at Portsmouth Fabric Company. Once the printing costs are met, the school will use their royalties to bring more arts programs to the students. Sammie Haynes plans to give her royalties to area organizations that support and preserve our rivers, lands, wildlife, history and the Children's Music Network (www.cmnonline.org).