Description
SORRY SOLD OUT!
The KAFFE FASSETT MYSTERY QUILT KIT program starts 3/15/2018. This is a 10 month program for $19.95/month. The pattern and fabrics were designed by the Kaffe Fassett Collective and you have a choice of light or dark colors! In March you will receive a clamshell project box with a Kaffe Fassett fat quarter 10 pack as a thank you, a calendar of monthly giveaways from FreeSpirit and instructions for that month. From April through November you will receive a package with fabric and instructions for each month. The final size is 82.5″ x 82.5″ and there are 12 yards of fabric total (no backing fabric.) In December you will receive the fabric kit for that month plus binding and the final instructions to complete the entire quilt and solve the Mystery! When you sign up you are agreeing to the complete 10 months of the monthly charge of $19.95. There are no refunds. Total charge for the kit will be $199.95 over the 10 months plus shipping. DEADLINE FOR SIGNING UP IS NOW 2/14/18 1/10/17! Shipping is $6.95 for the first month which is charged when you sign up here. Shipping will be $4.00 for each monthly kit for the next 9 months. If you prefer to pick up the fabric kit at the shop, we will refund the shipping charged automatically at check out when you order online. Due to the automated shipping charges calculated at check out, the clamshell project box (13.5″ x 13.5″ x 3″) shipping cost is not covered. If you would like the clamshell project box shipped, there will be an additional $6.00 fee charged when you send in your 10 month credit card authorization agreement sent by email. You may also choose to pick up the clamshell project box at the shop at a later date.
Order here for the dark color option. If you want to order the light color option, order here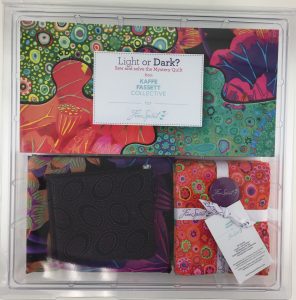 Kaffe Fassett Mystery Quilt Project Box with dark color option pictured here with 10 fat quarter gift!
Mystery Quilt Gift Calendar – Get involved each month to WIN, and one GRAND PRIZE winner will be selected following the 10 Month Mystery Quilt adventure puzzle!
Here are the fabrics used in the Kaffe Fassett Mystery Quilt Dark:                                                       Roman Glass gold, Roman glass leafy, Roman Glass red, Millefiore blue, Millefiore orange, Millefiore jade, Lake Blossoms black, Lake Blossoms red, Paperweight blue, Paperweight pink, Spot storm, Aboriginal Dot orchid.